The "LAVIOL" name comes from a combination of Lavender, Violet and Olive leaf; these plants symbolise constancy, modesty, simplicity, peace and healing. We are inspired by the symbolism and are dedicated to providing a high quality, ethical, committed, transparent and trustworthy skin care brands to our customers.

Laviol Skincare Solution is about to launch two new innovative skincare ranges which uniquely feature prebiotics and probiotics which means these products help to ensure a healthy balance on bacteria in our skin. We also use a range of natural plant based oils and Australian native plants that provide benefit to the skin in terms of nourishment & hydration. Our brands stand for quality, natural products with our overall theme being peace and calm from the picturesque Australian countryside.

Lilly & Milly:

Lilly & Milly is an Australian skin care range that uses free-range, organic goat's milk, plant extracts, essential oils, natural oils and vitamin E in their skincare and soap products. Their products contain no animal fats, artificial colourants, fragrances, parabens, petrochemicals or any other toxins which makes it suitable for all skin types, including babies' sensitive skin. Goat's milk contains alpha hydroxy acids, proteins, minerals and vitamin A and E that feeds the skin and keeps it moisturised, exfoliated, healthy and smooth. The cream in goat's milk makes it the best choice for moisturising skin and is beneficial for dry, itchy and sensitive skin.

These products are vegetable based, contain only sustainable palm oil and are not tested on animals. The Australian goats who provide the milk are allowed to roam freely and are treated with compassion and love throughout their life. Lilly & Milly goat's milk products are proudly Australian, using Australian ingredients whenever possible and meeting the high quality standards for Australian manufacturing.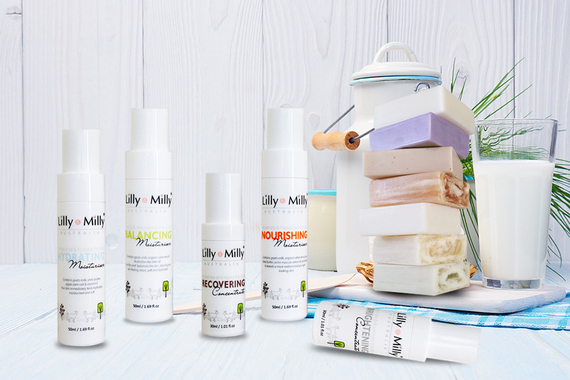 Alfie Rabbit:

Alfie Rabbit is the first Australian brand to develop and bring to market a unique formula enriched with probiotics, prebiotics, Australian native plant extracts, oat oil and carrot oil. These ingredients help to balance the skin's pH and protect the baby's skin barrier. Bacteria of the skin microbiome have a crucial protective effect. They help maintain the immune system, repair damage and protect against allergens and UV exposure.

Bacteria also limit damage caused by oxidation and improve the hydration and elasticity of the skin. However, an unbalanced microbiome is linked to many skin conditions such as eczema, allergies, dandruff, acne or dermatitis. Probiotic and prebiotic skin care products have the benefit of helping to regulate and balance the skin microbiome, preventing development of hostile bacteria and maintaining an optimum pH. Alfie Rabbit baby/toddler care products moisturise and nourish delicate skin and soothe dry and itchy conditions. No parabens, no fragrances, no toxicities.




Elissah:

Elissah is a revolutionary approach to skin care and has been developed to enhance our skin's defence barrier to maintain beautiful and healthy skin. Probiotics are one of the most cutting edge concepts in skin care today. Probiotics based topical products are able to help with a multitude of skin conditions including premature aging, acne, hypersensitivity, dullness, rosacea and inflammation. Probiotics are beneficial for all skin types and have been proven to be a powerful tool to achieve healthy, balanced and radiant skin.

The Elissah Bio P2 range combines probiotics, prebiotics and phyto actives to work in synergy to deliver optimal effectiveness. The powerful Australian native plant extracts of Kakadu Plum, Mountain Pepper Leaf, Finger Lime Caviar and Quandong contain potent antioxidants to protect against UVA and UVB rays and daily aggressors. The Elissah Bio P2 range is designed to strengthen the skin's natural defences, help regulate the skin's pH and barrier, and replenish the elasticity of the skin. The range visibly reduces the appearance of fine lines and wrinkles. After use, the skin will feel hydrated, softer, smoother and more supple.